He is the angel of my life. He does so much for me, takes care of me, is so patient with me, loves me with everything he has, allows me to be my true self, and makes me a better person. He is my husband, Bruce Belknap.


It's probably a cliche to say that my husband is my best friend, and that we were friends first before we became lovers. But that's indeed how it happened. We were in the same Computer Science graduate classes and joined the same group for a project. I was seeing someone else at that time and the thought of dating Bruce did not cross my mind. I just knew that he was really smart, and I enjoyed the short chats we had after classes.

So the connection was already there when we finally started going out. We didn't have to play games with each other. The more I found out about him, the more "right" this relationship felt. It wasn't long before we decided that we wanted to be together. Sure, I've said and felt the same with others before, but not with such conviction and reassurance. They say that you'll know it when you've found the one. Bruce is the one. For me.


We got married in Las Vegas on February 7th, 2003, at the Shalimar Wedding Chapel. The small, simple and short wedding was what we wanted. I never really cared for a big wedding anyway (unusual for a girl, I know). Besides, wedding lasts only a day, but marriage a lifetime. I'd rather spend the time and effort on my marriage. The only regret is that we didn't have our friends and family with us. But we thank you, our dearest family and friends, for all your well wishes, encouragement and support.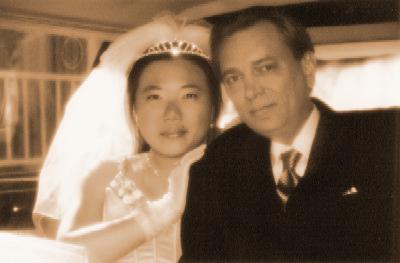 Among the wedding pictures, the above is our all time favorite.


There are so many things to say about our relationship. We both love music and have attended the Musikfest in Bethlehem, PA for two years in a row. We plan to make it an annual pilgrimage. We are also setting up our music studio to make some music together. We are both working on our PhD's in Computer Science. We plan to travel the world together.

Even when our interests do not coincide, we can find ways to complement each other. He has green fingers and likes to work in the garden. Although I do not really get along with plants and insects, I do like to take pictures of the passion flowers he grows (as well as the butterflies attracted by the flowers). He cooks the delicious meals, while I take care of our computers and home network.

Our relationship is not perfect, because neither of us is. But I really adore and appreciate the fact that Bruce tries his best to make our marriage work. It shows that he really cares about me, and about us. I love you Bruce, thank you for being my man!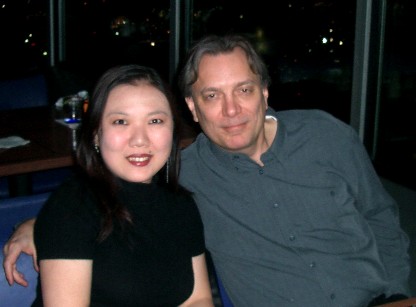 We celebrated our first anniversary dining at the Reunion Tower's revolving Antares Restaurant. One down, how many more to go??